Kivalliq Director Garth Kirkham Wins CIM Award
June 2, 2010
Kivalliq Energy Corporation wishes to congratulate Director Garth Kirkham P.Geo., P.Geoph. (left) on being awarded the Canadian Institute of Mining's 2010 JC Sproule Memorial Plaque.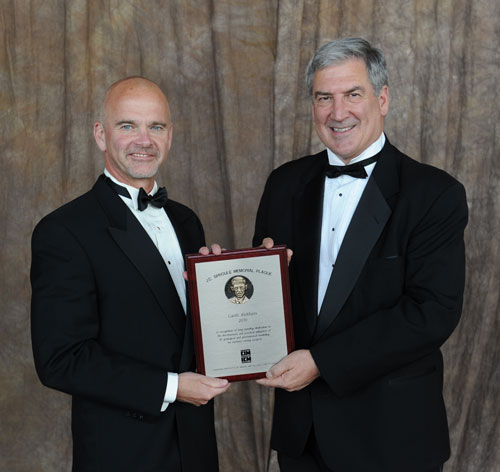 The Canadian Institute of Mining, Metallurgy, and Petroleum presented the prestigious "2010 JC Sproule Memorial Plaque" award to Mr. Kirkham on May 10th in recognition of his long standing dedication to the development and practical utilization of 3D geological and geostatistical modeling for northern mining projects.

"This award is intended for someone who demonstrates visionary zeal and professional dedication, and has greatly contributed to the early widespread appreciation of Canada's Arctic resource potential," stated John Robins, President & CEO, Kivalliq Energy Corp. "Garth is certainly a very deserving recipient."

In addition to being a key board or management team member of a number of companies, Mr. Kirkham is a very active member of the mineral exploration community. He is a member of both AME-BC and PDAC, holds the position of VP, Industry Liaison, for Geoscience BC, and is the in-coming VP for CIM Geological Society. He holds several professional designations in provinces such as BC (P.Geo. – APEGBC), Alberta (P.Geoph. - APEGGA) and in the Northwest Territories and Nunavut (P.Geoph. – NAPEGG)

Kivalliq's entire board and management team wishes to congratulate Mr. Kirkham on this public recognition of his professional achievements and contributions to our industry.

Board of Directors
Kivalliq Energy Corporation
For further information about Kivalliq Energy please visit our website at www.kivalliqenergy.com or contact Tony Reda, Investor Relations, at toll free 1.888.331.2269, directly at 604-646-4527 or by email at [email protected]. Kivalliq Energy Corporation is a member of the Discovery Group of companies, for more information on the group visit www.discoveryexp.com.
Neither the TSX Venture Exchange nor its Regulation Services Provider (as that term is defined in the policies of the TSX Venture Exchange) accepts responsibility for the adequacy or accuracy of this release.