Kivalliq Presented with 2012 Environmental Excellence Award by KIA
March 12, 2012
Vancouver, B.C. - Kivalliq Energy Corporation (KIV: TSX-V) (the "Company" or "Kivalliq") has been presented the 2012 Environmental Excellence Award, by the Kivalliq Inuit Association (KIA). The Company was acknowledged for outstanding environmental stewardship at Kivalliq Energy's Angilak Property in the Kivalliq Region of Nunavut for the second consecutive year.
"The Kivalliq team continues to adhere to the highest environmental and safety standards in our exploration activities at the Angilak Property," stated Kivalliq's COO, Andrew Berry. "We are honoured to receive this award as public recognition of our efforts by the KIA for the past two years."

The award was presented to both John Robins, Chairman and Jim Paterson, CEO of Kivalliq Energy Corporation at the 2012 Prospectors and Developers of Canada Association (PDAC) Conference in Toronto, Canada.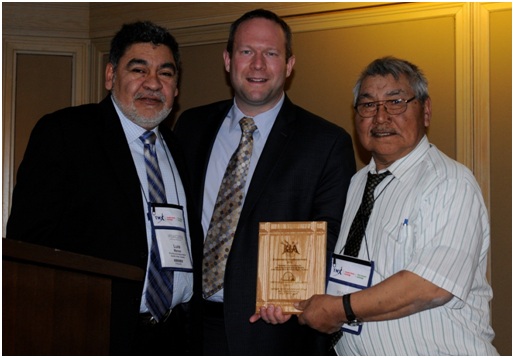 From Left: Luis Manzo, Director of Lands, KIA, Jim Paterson, CEO, Kivalliq Energy Corporation, and
Raymond Ningeocheak, Vice President, KIA, at the 2012 PDAC Conference in Toronto, Canada
About Kivalliq Energy Corporation

Kivalliq Energy Corporation is a uranium exploration and development company and the first company in Canada to sign a comprehensive agreement to explore for uranium on Inuit Owned Lands in Nunavut.

Kivalliq's 252,830 acre Angilak Property hosts the high-grade Lac Cinquante deposit, along with multiple highly-mineralized target areas. With an NI 43-101 Inferred Mineral Resource of 1,779,000 tonnes grading 0.69% U3O8, totalling 27.13 million pounds U3O8, (15.2 pounds U3O8/tonne) at a 0.2% U3O8 cut-off grade, the Lac Cinquante Deposit is Canada's highest grade uranium deposit outside of the Athabasca Basin.

Since acquiring the Angilak Property in 2008, Kivalliq has invested approximately $30 million conducting systematic exploration, including ground and airborne geophysics, geological mapping, prospecting and approximately 48,000 metres of RC and diamond drilling.

On behalf of the Board of Directors,

"Jim Paterson"

James R. Paterson, CEO

Kivalliq Energy Corporation

For further information about, Kivalliq Energy Corporation or this news release, please visit our website at www.kivalliqenergy.com (m.kivalliqenergy.com) or contact Investor Relations toll free at 1.888.331.2269, at 604.646.4527, or by email at [email protected] .
Kivalliq Energy Corporation is a member of the Aurora Resource Group of companies, for more information please visit www.auroraresource.com.
Neither the TSX Venture Exchange nor its Regulation Services Provider (as that term is defined in the policies of the TSX Venture Exchange) accepts responsibility for the adequacy or accuracy of this release.